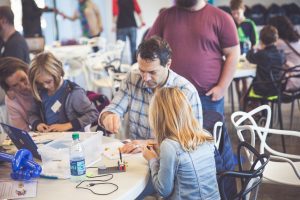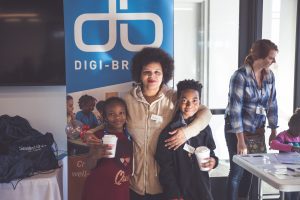 Sealed Air Corporation Hosts Family Code-In at Renaissance West STEAM Academy
CHARLOTTE, NC, MARCH 29, 2019 — Sealed Air Corporation (NYSE:SEE) believes in the next generation of creators and scientists and is teaming up with Digi-Bridge to host a second family-friendly event, this time at Renaissance West STEAM Academy.
Last November Digi-Bridge and Sealed Air hosted the first of two Code-In events for scholars and their families at Sealed Air's Global Corporate Headquarters in Charlotte. The second event, a Code-In at Renaissance West STEAM Academy will take place on Saturday, March 30 for school families.
Code-Ins provide an engaging environment for scholars to explore, create, build and program using LEGO robotics.
"We are so excited to have this opportunity for our scholars and their families thanks to Sealed Air and Digi-Bridge," said Renaissance West STEAM Academy Principal Erin Barksdale. "Giving our students a place to learn and adopt basic coding and robotics skills in a unique way while spending time with their families is a gift to our community."
About Digi-Bridge
Based in Charlotte, N.C., Digi-Bridge aims to equip shareholders with the means to foster optimal use of technology in the learning environment, ensuring that all 21st century learners have opportunities to succeed in the digital age.
About Sealed Air Corporation
Sealed Air partners with customers to solve their most critical packaging challenges with innovative solutions that leave our world, environment, and communities better than we found them. Our portfolio of widely recognized brands includes Cryovac® food packaging and Bubble Wrap® protective packaging which respectively enable a safer, more efficient food supply chain and protect valuable goods shipped around the world. Sealed Air generated $4.7 billion in sales in 2018 and has approximately 15,500 employees who serve customers in 123 countries. To learn more, visit www.sealedair.com.