To celebrate National Cybersecurity Awareness month in October, we partnered with Bank of America to host cybersecurity awareness events at Thomasboro Academy, one of our new 2022 middle school partners in STEAM programming.

According to the Washington Post, students are increasingly being targeted with mobile apps and games that are collecting personal information. We feel that it's important to educate these high-risk students on cyber risks and pique their interest in future careers in cybersecurity.

We customized weekly sessions with the students to cover areas of interest, for example cybersecurity in the gaming industry. Key topics included social engineering tactics such as phishing, the cybercrimes and evolving threat landscape, and the wide variety of related careers available today.

Teachers used cyber security-themed toolkits called Digi-Bins that were co-developed by Bank of America cyber experts. The bins contain high-quality curriculum to recognize malware, learn how computers interact with a network's components, share cyber-healthy social media practices, and explore careers in management, computer engineering and ethical hacking.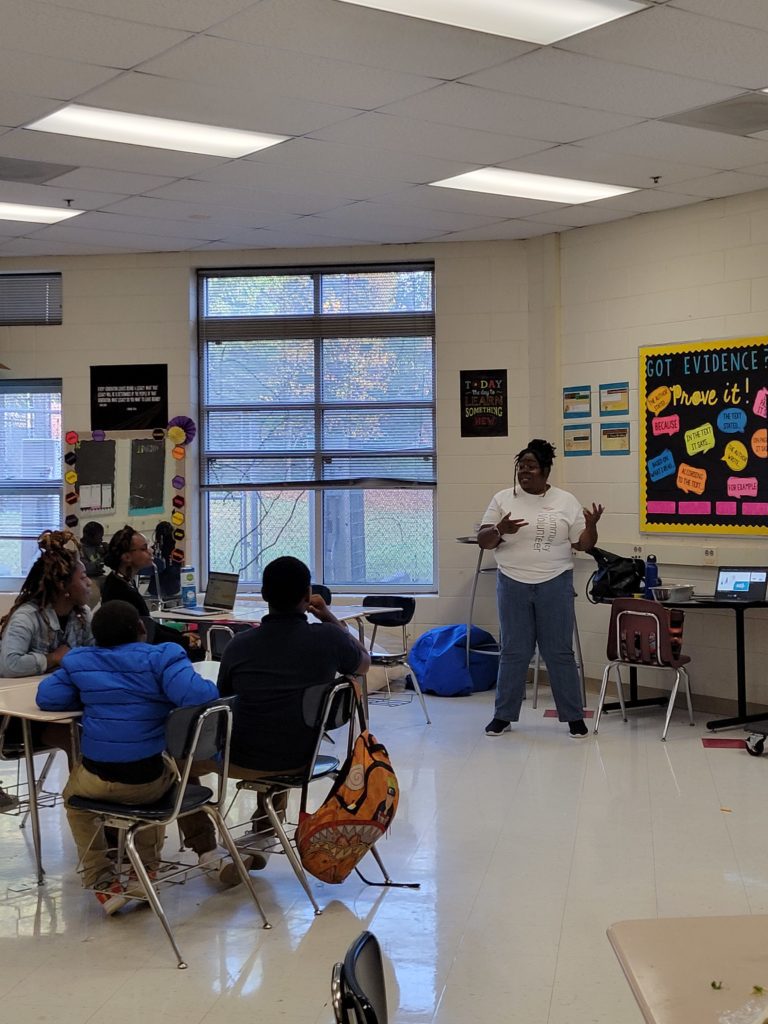 In addition to these activities, the students were visited by a series of speakers from Bank of America, who spoke about their careers and answered questions. We were honored to have Tamisha Dixon, Assistant Vice President and Business Operations Manager and Evaluation Engineer at Bank of America, as one of the speakers for our month-long educational efforts.

During family night, Tamisha discussed with more than 40 attendees and caregivers what their students had been learning and also shared pathways to careers in cybersecurity that don't require a four-year college degree.

We sat down with Tamisha to ask her a few questions about her career and how she found her place in the cybersecurity world:

When did you know a career in cybersecurity was for you?
I knew a career in cybersecurity was for me in 2020, the moment I stepped into my first cyber security conference prior to the COVID-19 lockdown. I learned about the exciting world of the "red team" (a group that plays the role of an enemy or competitor to provide information security feedback from that perspective). In that moment, I was bitten by the "cyberbug."

Have you had any influential mentors or role models in your life?
Yes, my mother was my first role model as she's been with the Post Office for more than 30 years. The second role model was a lawyer at my first real job out of college. She took me under her wing to ensure I was trained in the ways of corporate America.

What advice would you give to students who might be interested in cybersecurity?
Continue to seek opportunities that allow you to stretch your current skill set. Learn to be comfortable being uncomfortable. Cyber is a fun field and it can be challenging.

What is the most exciting part of your career?
I love that in my day-to-day life, no day is ever really the same. I like change, and the role I am in allows for a lot of change!

What are you most proud of in your career?
I am most proud of the opportunity to help others grow economically by introducing them to the world of cyber.

What cybersecurity trends do we need to pay attention to?
I would gain understanding of and monitor the evolution of social engineering, which refers to the psychological manipulation of people into performing actions or divulging confidential information. This continues to be a growing area of concern for people of all ages.