Over the past few months, Digi-Bridge students had the opportunity to help Charlotte Hornets' player Kelly Oubre Jr. look fabulous both on and off the court! A group of nine students from Governors' Village STEM Academy were charged with making game day accessories for the professional basketball player using their 3D designing printing skills.
3D printers are set to become one of the biggest design tools of the future. By 2023, the 3D printing industry is expected to grow to 32.78 billion. Yet, few students have the opportunity to learn how to create designs and use 3D printers. Kelly Oubre Jr., Governors' Village STEM Academy, Honeywell, the Charlotte Hornets' leadership team, and Digi-Bridge teamed up to combat this educational gap.
Program Overview
Oubre is known for his taste in fashion as well as his work supporting the Charlotte community. This project allowed students to explore how STEAM education can be used in the field of design with the most fashionable player in basketball.
The participating students met with Digi-Bridge STEAM Facilitator, Torie Leslie, before and a after school until the final showcase on March 25th.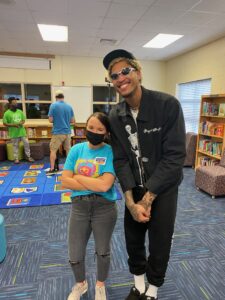 The experience started with an opening workshop from Senior User Experience Design Supervisor at Honeywell, Jana Bacinska. One of the sessions was also a virtual consultation with Oubre in order for students to understand his design tastes and personal style preferences.
During the final showcase, students printed and showed their designs to Oubre. He then selected the accessories he would wear in upcoming Hornets' games. At this final workshop, students were also able to share their work with teachers and students at Governors' Village, the Digi-Bridge and Honeywell teams, and Hornets Sports and Entertainment leadership members. To thank the students and everyone involved, Oubre invited everyone to his last game of the season.
Some of the students' designs included:
3D key pendant to show the love between Oubre and his finance
A cuff with removable designs to change based on outfit choice
A Dope $oul necklace with intertwined letters, a difficult design concept
The Experience in the Students' Words
Our collaboration with Honeywell and the Charlotte Hornets was truly transformative, but don't take our word for it–take the students'! We asked some of the students about their experience and here's what they had to say:
Samantha said, "I am so proud of my designs because I worked really hard on them. I chose a very difficult intertwined design concept that I had to design and reprint several times until I got it right. I am really proud of my determination to get it right."
Jaylynn said, "Kelly Oubre said he really liked the concept of the key design I made to show the interconnectedness of his love for his fiance. It felt good to get that compliment that my vision for my design stuck with him. I am really proud and excited he's going to wear it."
Jamil said, "Dope$oul is a cool brand and I wanted to add the logo to my cuff for Kelly Ouebre. I had to work really hard to figure out the spacing of the letters. My favorite part was pitching my design to the client, Kelly Oubre!"