National Robotics Week is April 3-11 and while we celebrate robotics all year long at Digi-Bridge, we want to take a week to celebrate this wonderful world within STEM.
Robotics STEAM Search
Check out our at-home Robotics STEAM Search! This family-friendly activity guides scholars of all ages through exploration of robotics within their home! Activities include identifying robots, constructing a robot costume and hosting a robot dance party!
Throwback to CTE Robotics Fair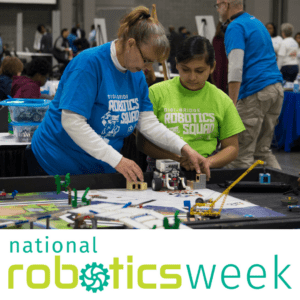 In February 2020 Digi-Bridge robotics squads from Allenbrook Elementary, Eastway Middle School and Governors' Village STEM Academy participated in a robotics exhibition at the Charlotte-Mecklenburg Schools Career and Technical Education Fair at the Charlotte Convention Center. We had so much fun and can't wait to compete next year!
Hour of Code Robotics and Circuits
Got robots or physical computing kits? Use them with these activities and make a tangible Hour of Code for students of any age! Some activities even offer a simulator so you can get started without any hardware.
Guide to the World Of Robots
Check out this cool site that features nearly 200 robots from all over the world!
Nova Resources
Celebrate National Robotics Week with these NOVA resources! Discover how robots can do a variety of tasks, from playing soccer to treating diseases to collecting rock samples from Mars.
Books on Bots
Encourage a love of reading AND robots with this comprehensive list of books on robots and robotics. There are titles for all ages and reading levels.
Build Your Own DrawBot
With a few simple tools and a little creativity, you can build your very own drawing robot!
If you would like to help support our robotics programming, donations are always welcome.