Lotticia Shefferson
In her new role as Program Director, Lotticia will strategically lead our programming efforts across all sectors and work with key stakeholders, including Charlotte Mecklenburg Schools leadership.
When asked what she is looking forward to about being Digi-Bridge's Program Director, Lotticia said she's excited to play "a role in the cultivation of ideas, relationships, and partnerships that will support program growth, increase impact, and promote continuous innovation."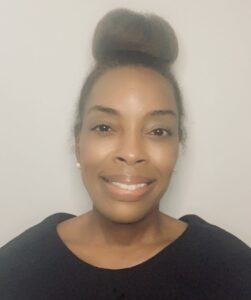 "My excitement for joining the Digi-Bridge Team is rooted in my passion to create, support, and expand STEM experiential learning opportunities that are transformative, creative, and influential," she said. "Joining this awesome organization allows me to continue the quest of decreasing the digital divide and increasing STEM and career access and exposure opportunities for students in the Charlotte communities and beyond."
Before joining Digi-Bridge, Lotticia had created a STEM pipeline of programming for secondary students, including organizing paid high school internships. She was appointed as a Board Chair for the Mayor's Mentoring Alliance earlier in 2022 and she has presented her research, "Shut Up and Drive: The Risks and Rewards of Letting Teens Take the Wheel," at the International Association of Science and Technology Centers.
Outside of work, Lotticia loves to create art with different methods–including digital fabrication and other STEAM methods we use here at Digi-Bridge! She's also a coffee, wine, and cheese connoisseur and even roasts her own coffee. Lotticia regularly attends concerts and loves spending time with family and friends. Her go-to karaoke song is Kill Me Softly by the Fugees.
Kaity Scruggs
As Impact Manager, Kaity will be charged with navigating our student participants through the STEAM pipeline, building out family engagement strategies, and establishing a referral network of STEAM partners.
When asked why she was excited to join the Digi-Bridge team, Kaity said, "With innovative curriculum and strong support from the community, Digi-Bridge is perfectly positioned for growth and an even greater reach. I can't wait to collaborate with Digi-Bridge families and partners to provide our students with experiential opportunities to spark their curiosity in STEAM. Charlotte can do great things when it works together!"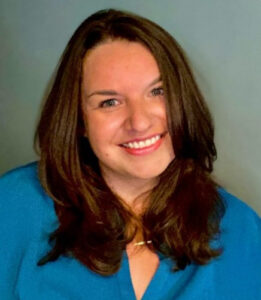 Kaity's background is in volunteer management, community partnership, and program development. One of her favorite parts of this work is bringing stakeholders together to "create experiences for youth that become a springboard for long term interest." Before joining the Digi-Bridge team, she worked for other amazing nonprofits, such as the Girl Scouts and Junior Achievement.
Outside of work, Kaity enjoys playing board games with her daughter and husband and making something creative. You can often find her in the garden, working on a piece of art, or trying out a new recipe. As a native West Virginian, her go-to karaoke song has to be Country Roads.