Grab a piece of cake, some confetti, and balloons because it's Digi-Bridge's birthday! Our organization turns 8 this year and we're honored to have been able to expand STEAM education in the Mecklenburg area for almost a decade.
2021 was a year full of joy, adaptation, and growth for Digi-Bridge. Digi-Bridge expanded our partnerships this past year, added team members, and implemented new and/or adapted STEAM programming.
As we reflect on our 8th birthday, we celebrate the triumphs that have allowed us to expand our programming and offer in-person and virtual STEAM education to more students in Mecklenburg County.
Some of our biggest program expansions included kicking off virtual and at-home experiences, such as at-home STEAMKits and Virtual STEAMLabs in the winter and spring of 2021.
In the summer and fall, we welcomed back the energy, sights, and sounds of in-person programming through our summerSTEAMcamp and involvement at many community partner sites including ourBridge, Camp CMS, UrbanPromise and more. We delightfully started STEAMLab with 19 Charlotte Mecklenburg School partners and robotics teams with 5 school partners and 2 community organizations . Our facilitators and program managers feel the excited energy of in-person STEAMLab activities or robotics challenges now that we are able to be physically together to build, tinker, and explore.
Over the past 8 years, Digi-Bridge has also been supported by amazing partners and volunteers. That community expanded in 2021 as we forged new partnerships with companies such as LendingTree through the LendaHand Alliance Cohort, Trane Technologies, and more. We also added a year over year growth of 10 partner schools and updated our metrics of success and evaluation tools in partnership with Deloitte.
That impact is not only in the statistics and accomplishments, but in the way Digi-Bridge has impacted the lives of our students, facilitators, and volunteers. Since Digi-Bridge's birthday falls on Valentine's Day, we wanted to share some of the love letters you all wrote us: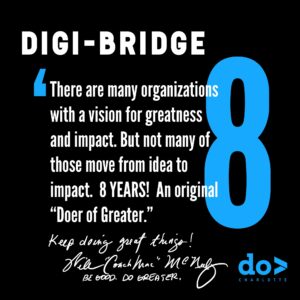 "Happy Birthday Digi-Bridge, from the moment you were created you have been one of the most innovative organizations led by thoughtful leaders with a bold vision. You work tirelessly to make sure all kids have the access and tools to succeed in the digital age. Thank you for all that you do for our community!" – SHARE Charlotte
"Happy 8th Birthday Digi-Bridge! We're so grateful to partner with an organization that provides high-quality STEM enrichment opportunities for ourBRIDGE students. ourBRIDGE kids love participating Robotics club and we love working with all of the Digi-Bridge staff. We can't wait to see you grow." -Shani Mann, Community Engagement Coordinator, ourBRIDGE for KIDS
STEAMLab is rad.
So is Digi-Bridge blue.
Realizing this vision is only possible with YOU!
Celebrating eight great years & the bridges you've continued to build for our K-12 learners.
Digi-Bridge community: you have my heart, today & always.
-David Jessup Jr., Founder of Digi-Bridge
"MeckEd loves partnering with Digi-Bridge to bring STEAM experiences to middle school students in Charlotte. They offer engaging activities that excite students and encourage them to explore their future possibilities. Charlotte is lucky to have you Digi-Bridge!" -Shelly Biby, Chief Operating Officer, MeckEd
While our 8th Birthday was the best yet, we expect to have even more to celebrate for our 9th. Digi-Bridge has bold plans to expand our programs, team, and reach this year thanks to your generous support and donations. We wouldn't be here without you all. Along with celebrating the love letters you all wrote us, we wanted to express our love and appreciation for you all too. Thank you for all your support! Take this note as permission to eat ice cream or a cupcake today in honor of Digi-Bridge.