Friday, February 11th the world celebrated International Day of Women and Girls in Science.
Women play a critical role in the sciences and contribute to a more diverse workforce that is able
to solve 21st century problems such as cybersecurity threats, climate change, and diseases. To
celebrate, Digi-Bridge will be highlighting some of the inspirational women working in science
STEM for our partners here in Charlotte.
As part of this series, we had the pleasure of interviewing Patty Stevenson Griffith, who is a
Cyber Analyst at Bank of America. Patty started out as a Cybercrime Analyst conducting
research on tactics and techniques that cyber criminals were using to target financial institutions.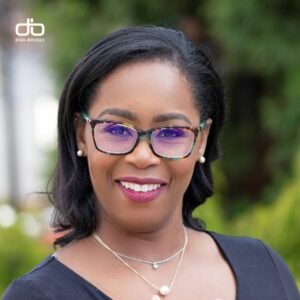 During her career, she's worked for the United States military to stop cyber threats, learned how to shift from an education in business management to a career in cybersecurity, and helped maintain cybersecurity for Bank of America customers.
Why did you want to go into your field?
The roots of my passion started in the military as an investigator and special security official. I conducted background checks on people who were applying for security clearances. My last 14 years in the military, including multiple deployments to the Middle East, shifted my focus from the face-to-face enemy to cyber criminals. Criminals of all backgrounds were beginning to understand that they did not have to wait on postal service mail or even telephones to get messages across. The World Wide Web became their playground.
Who has been an inspiration to you or helped you in your professional journey?
In the military, my soldiers had a desire to learn their enemy and how they operated. At Bank of
America, my global technology cyber threat team serves that function also leveraging a wide
variety of unique, invaluable skills that create a stronger force when combined. My teammates freely share their expertise with passion as we work together each day.
What was your science education like?
I'm pursuing a degree in business management, which is completely opposite of cyber! I wanted
to learn how to operate and manage a business, and with that you should also know how to keep
your investment (business) safe.
Are there any particular lessons, teachers, or moments that stood out?
A defining moment for me was when I realized that an IP (internet protocol) address had taken
the place of a photo or name. It's pivotal to understand that a person's social media platform
helps to build a profile of who they are and what drives them to do the things they do.
There is often a bias towards men within the sciences. What do you think needs to be done in order to break this bias and empower more women and girls to go into these fields?
I believe that there are many women in this field that just need an opportunity to showcase their
talent. Oftentimes, women seek to have more education and to gain experience in getting these
roles without fully leaning into the talent that they already possess. Some may be challenged in
feeling the need to prove their worth. I encourage more women stop wasting time questioning
their talent or validating their worth and jump in the same way that a male would.
What is a fun accomplishment or memory from your time working in the sciences or from your science education?
Before working at the bank, my team was in the midst of an ongoing investigation where we were struggling to anticipate the next steps of our person of interest. Back to my IP comment above, we managed to find three IP addresses that shared important intel to ultimately help us solve the crime.